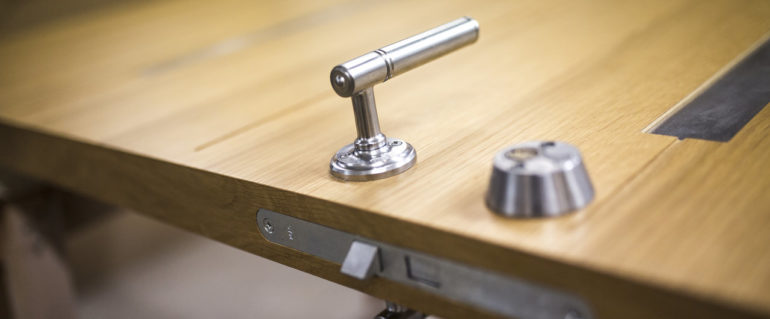 Specifications for use
Rules for transporting, storing, installing, using and caring for doors.
Doors may only be transported and stored in a horizontal position, in packaging that protects them from moisture and other factors; there must be spacers between doors. The cargo must be well-fastened, in accordance with transport specifications.
In order to prevent doors from deforming, one must store them in a horizontal position, on pallets, in a way that makes warping or twisting of the doors impossible. The ambient temperature in the storage room must be +10 to +30 °C, at a relative air humidity of 40 to 60%.
For doors intended for indoor use, the ambient temperature must be +10 to +30 °C, at a relative air humidity of 40 to 60%.
External doors and external door frames must only be installed under awnings, to protect them from precipitation and direct sunlight.
Installing door sets at unsuitable ambient conditions on the premises is strictly prohibited.
Installing doors before finishing the plastering work is prohibited.
Attention! Door sets must be installed by a qualified specialist. Failure to comply with assembly instructions and actions by unqualified individuals can lead to irreversible damage in the door structure, and void your warranty.
If sealing foam comes into contact with the door during its assembly, do not try to clean it while the foam is still fresh, or use any chemical agents. Wait until the foam hardens, and then carefully remove it.
The ambient temperature and humidity in the rooms that the door separates should not be very different, and doors should not be installed less than 0.5 m from a heating source.
Door sets must be protected against mechanical damage, dirt, water and contact with hot objects and chemically reactive substances.
To prevent door sets from discolouring during their use, we recommend protecting them from direct sunlight.
Doors must be treated with care when in use. In order to avoid damaging the door, its furniture and/or structure when opening and/or closing doors, do so by holding onto the door handle until the door is completely shut, and the catch of the lock sets in its place. Doors must not be kept open if there is a draught in the rooms that they separate. It is prohibited to fix doors in place with improvised items not suited for this purpose, like wedges, heavy objects etc., because they can irreversibly damage the doors, door furniture and/or structure.
Use a moist cotton cloth or special solvent-free furniture care products for the cleaning and care of door sets. It is strictly prohibited to use abrasive cleaning agents (including dishwashing products and washing powders) for this purpose.
Applying any sticky tape and similar products to the door leaf, frame, jambs and other components is strictly prohibited.
The warranty for the door sets only applies if all the transportation, assembly, operation and care rules are complied with, and if the Client inspects and adjusts the doors at least once a year.
Contact details
Reaton finishing material shop: Čiekurkalna 2. līnija 74, Riga, LV-1026
See Road
+371 67023042
+371 67023042
Reaton finishing material shop working hours:
Mon-Fri: 09:00 - 18:00
Sat: 10:00 - 16:00*
Sun: closed.

*On Saturdays, the door exposition works by appointment.
You can apply by e-mail: doors@reaton.lv

We encourage you to carefully read our privacy policy and cookie policy before using this website. By using this site, you agree to the contents of our policies.